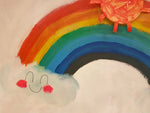 Somewhere over the rainbow, skies are blue...
Before the rainbow fun of 2019's Yong Siak Children's Street Trail could begin, the elves of Woods in the Books were hustling and bustling to make the magic happen.
For years now, we've collected the cardboard rolls that thermal receipt paper is wound around. Each roll is made of thick, quality, long-lasting cardboard and we've always thought it would be a pity to just throw them all away! So we've been collecting them and wracking our brains for how to use them. So many craft ideas but so many of them would stand around at home to collect dust. Much like the re-used paper bags we're collecting for the Little EcoHero Project, we hope that the crafts we do give the re-used items new purpose beyond decoration. Our discarded ideas include: marionette puppet pieces (too thick!), finger puppet bodies (too small to fit on adults' fingers!), matchbox car wheels (too tricky to fit on, which means it would be too hard for younger kids to engineer).
Finally, this year, we hit upon the idea of using them for long cardboard beads to colour and decorate as imaginatively as possible. String it all together on a piece of ribbon and hey presto! a Little EcoHero: Rainbow Garland craft-making was born.
(Next, we're shopping around for ideas on what we can do with the cardboard rolls we're left with when we use up a roll of Scotch tape.)
The Tongue Twister Challenge was born out of last year's Children's Day activity, where we gave a prize to anyone who could recite 'First Fifty Kids Fish For Free' three times without tripping over their own tongues. 'What if,' we wondered, 'we could expand it and turn it into a game?'
While tongue twisters might seem like nonsense, they're actually used by orators around the world to train for eloquence and clarity of speech? That's right, reading Dr Seuss out loud can help you to speak better in public. Much like origami trains little fingers to be more dexterous, tongue twisters help the tongue to navigate tricky words and turns of phrase, which in turn helps to build confidence for public speaking.
And, of course, it's something fun and wonderful for kids to have fun with, which is the entire ethos behind the Yong Siak Children's Street Trail. Under our hand-painted rainbow sign and hand-lettered tongue twister cards, we hope every one who stopped by to give our wheel a whirl had a true rainbow of fun!
Speaking of fun and wonderful Street Trail games, we also brought back last year's crowd favourite, Fishpond Catch & Count! Hopefully, everyone got their ice pops to chase away the sweltering heat of the sun! Fun fact: every single fish was hand-painted from discarded corks and each tail was fashioned from old plastic bags.
And then there was the Little EcoHero: Paper Bag Drive! As you know, we here at Woods in the Books love to try new experiments in the name of saving our green planet. This is the first time we're trading re-used bags for entry into our workshop, but for our first time we had a very decent run! Thank you to everyone who brought bags to us in return for getting to enter the air-conditioned hall of the Rainbow Garland craft-making! Please treasure your Rainbow Garlands as we treasure the 10 kg of paper bags we managed to raise!
That's all from our neck of the Yong Siak Children's Street Trail this year! We loved seeing everyone who came, and we hope you brought home something wonderful to remind you of your day!