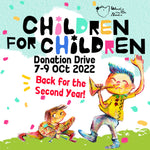 Donate your preloved books and toys at Woods in the Books this Children's Day Weekend! Our 𝗖𝗵𝗶𝗹𝗱𝗿𝗲𝗻 𝗙𝗼𝗿 𝗖𝗵𝗶𝗹𝗱𝗿𝗲𝗻 𝗗𝗼𝗻𝗮𝘁𝗶𝗼𝗻 𝗗𝗿𝗶𝘃𝗲* is back, and we'll like to offer our next generation an opportunity to celebrate their day by sharing their blessings!
As children grow up, it is natural that they will outgrow some books and toys. Instead of hoarding these items, we could pass them on to someone who will love and treasure them as if they are new.
For Children's Day 2022, start a new tradition with your child. Encourage them to sort out their worldly possessions and choose some items to give away. Next, work with them to write a note to the recipient. A simple "Thank You for adopting my toy", "I hope you will enjoy my favourite bedtime story" or even a drawing is all it takes to make this act of giving more meaningful - not to mention, bring joy to the giver and the recipient!
*Donation Guidelines:
- Duration: Fri - Sun, 7-9 Oct 2022
- Location: Woods in the Books - 3 Yong Siak Street, Singapore 168642.
- Only clean and reusable books and toys in good condition will be accepted.
- Due to hygiene reasons, clothes and stuffed toys will not be accepted.
- All the donated items will be lovingly passed on to a not-for-profit organisation.