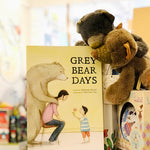 Sundays Are For Reading -
Grey Bear Days by Sabrinah Morad and Wen Dee Tan
How do you cope when one of your parents is suffering from Grey Bear Days? Sensitively written for younger picture book readers, Grey Bear Days equips readers with the tools to understand a fuller picture of what might happen when a beloved parent is bested by the grey bear of depression.
Following a mother and son, Grey Bear Days opens with life before the grey bear comes, a rosy picture full of activities that parent and child can do together with beautifully detailed backgrounds and bright colour on every page. The simple language of the story sets up these idyllic scenes for readers to imagine their own experiences into the narrative.
There's a stark emotional difference in the illustrations when the grey bear, the anthropomorphised symbol of the mother's depression, appears. Stern and forbidding, the grey bear dominates the white pages of the book. As the grey bear and the child struggle over the mother's attention, the story makes it clear that only the mother can overcome her depression. Instead, it offers readers examples of tools and small ways to help, tiding the child protagonist through as the grey bear grows smaller and his mother can return to brighter days.
A simple but effective introduction to depression for young readers, Grey Bear Days is a sensitively written picture book that will be useful to older readers who may be struggling to understand and cope with signs of depression in the people around them.
Get your copy of Grey Bear Days here.