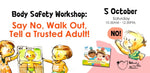 Learn essential body safety skills in this parent-child workshop led by the Singapore Children's Society. Through interactive resources, participants will learn how to tell the difference between right and wrong actions, and children will be empowered with important body safety skills.
All participants will bring home a copy of KidzLive: I Can Protect Myself to continue the conversation with your child.
In line with our beliefs to pay it forward, Woods in the Books is happy to host this workshop. All proceeds from this Children's Day workshop will go towards the Singapore Children's Society.
Who: 4+ to 6 years old
When: Saturday 5 October, 10.30AM - 12.30PM (2hrs, includes 1 intermission)
Where: Woods in the Books, 3 Yong Siak Street
Fees*: $48 for 1 Parent-Child Ticket
woodsinthebooks.peatix.com
*Does not include Peatix handling fees.