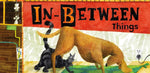 Come to Woods in the Books and help us launch Priscilla Tey's very first picture book, In-Between Things!
Join us for story reading and drawing with the artist of this brand new picture book!
Who: Ages 4 and up. Parents are welcome to join in!
When: 4 - 6PM, Saturday 7 July
Where: Woods in the Books
FREE
Synopsis: Look over there — the cat is between a table and a chair with a tear. But now look again: the cat is on top of the dog, who's between the floor and the cat (and not too happy about that!). As you wander through the delightfully detailed illustrations, the more you look, the more you'll see — including colours made from a mix of two others, hybrid implements such as a spork, warm nooks that are neither too cold nor too hot, even a cross of a zebra and cow that makes a . . . zebrow? In an engaging and utterly stylish debut, rising star Priscilla Tey leads readers on an addictive exploration of the in-between, a surprisingly far-reaching and everywhere concept.
About the Author: Priscilla Tey is a graduate of the Rhode Island School of Design. A native of Singapore, she returned home after completing her degree and splits her time between illustrating and teaching. She loves "being the architect of wonderful worlds for characters to wander in" and observes that "the world is full of strange adventures and stories waiting to be excavated." In-Between Things is Priscilla Tey's first book for children.