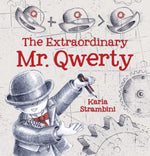 About this book:
Norman Qwerty is a man of many ideas, and none of them is the least bit ordinary. He's quite certain that no one else thinks the way he does, and so he keeps his ideas to himself. But when his ideas get simply too big to hold in, Norman builds the most extraordinary thing! Soon, the beloved Mr Qwerty is never alone (unless he wants to be!), and the world will never be the same.
Recommended by Amirah because...
This unique black and white picture book has few colour accents, making it soothing to the eye. The illustrations are beautiful and detailed, particularly Mr Qwerty's invention sketches. Children who like mechanical things will love Strambini's drawings.
An encouraging story that demonstrates how thinking 'out of the box' can lead to extraordinary results. This is a book that encourages and honours creativity.
Each word is carefully chosen to make the story perfect for younger readers.
For:
Ages 6-8, and for anyone who is afraid of sharing their ideas with their peers