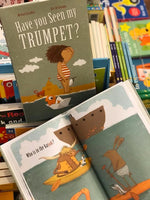 'Who thinks it's too CROWded?'
'Who is chasing the PIGeon?'

Michael Escolier's clever wordplay stands out in this beautiful hardcover picture book, encouraging kids to scour playful illustrations for answers that are slyly hidden within the questions themselves. Of course it is the disgruntled CROW who finds the boat too crowded. There's runs the PIG as it barrels towards the put out pigeon. Colour change and capitals on the answer within the questions turn them into graphic elements to suit the book. While it seems at first as though it is only the illustrated setting that knits the seemingly disparate questions into some form of continuity, the ending reveals a final trump card that pulls the entire book together.
The beach setting brings the story together in a wash of seaside-themed fun. The question format invites readers to seek out the answers amidst Kris di Giacomo's busy illustrations in a search-and-find hunt that will reward readers who love to explore pictures with lots of things happening in the background. Full of motion and warm colours, the anthropomorphised animals make for cheerily crowded scenes. Despite the busy-ness of the scenes and the expressiveness of the animal characters' faces, plenty of wide spaces around the busy characters creates the impression of a leisurely pace, mirroring the idea of a fun day at the beach throughout the simple but effective storyline that unfolds.
Amidst the cheerful chaos of beach play, a child asks, "Have you seen my trumpet?' As the story clambers through the pages, the child's search weaves the loosely connected questions a quest story, calling a momentary halt to the deluge of questions with a polite, "Excuse me." At the very end, child and trumpet are reunited at last and clever readers will see that the answer and question format was a clue to the nature of the child's trumpet all along. Bringing the question structure to the forefront in this manner rewards observant readers, who will enjoy reading from the beginning once again to discover the clues that end in this final payoff. Heartwarming, funny, and clever, younger readers will find plenty to discover over and over again in the pages of this wonderful read.