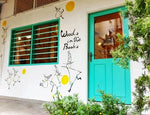 There's been a time or two (or every week) where a customer wistfully looks over the counter at one of the bookshop elves and says, "You're so lucky to work here, where you can just sit behind the counter and read all day."
As a group of booksellers point out in this ShelfTalker post on Publisher's Weekly, it would be nice, if we ever had the time to read in the shop!
To be quite honest, the kids who pick up a Tintin volume and park themselves in a corner to finish as their parents browse for gifts probably read more than most of our elves get a chance to.
Instead of reading we have questions to answer about:
Books whose title have been forgotten (but oh, it was a yellow colour and it was about Singapore and I saw it here the other day -- which this elf successfully identified as We Can by Ben Lai)
A gift for an 8 year old but we don't know her very well, so we can't tell you what she might like (Perhaps try the Ottoline box set by Chris Riddell, which by the way is 25% off right now)
Award-winning and popular books that have come out in the last year (a slightly more difficult question to answer earlier in the year before the new award-winners have been announced!)
Any books that have doughnuts, as my daughter's school is having a baked-goods-from–a-book costume event and she insists that she wants to go as a doughnut even though I tried to suggest to go as a cupcake instead. She we must find a book with doughnuts (This adorable problem can be solved by any of Steve Anthony's Mr Panda books!)
From this past week alone: books about emotions, about behaviour; books about World War II; books about dinosaurs for a four year old, but it can't be too simple because he likes having a lot of detail in his books; books about singing or music or songs...
And so on and so on and so on.
Though we are of course more than happy to pair good books with new homes where they'll be loved and cherished to pieces (perhaps literally in some cases), it really is a difficult thing to snatch a moment to read in the bookshop!