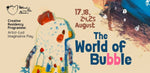 All alone in a landfill, Bubble lives with only junk objects around him. But one day, Bubble discovers that the pieces of junk around him are more than what they seem…
Discover Bubble's story as Creative Resident Myra Loke brings objects to life in The World of Bubble, an interactive play space installation. Inspired by the imaginative play worlds dreamed up in the Build, Shape, Create sessions in July, each session is designed to hone every child's creative thinking skills through elements of storytelling and free roaming child-led play. For pre-walkers and crawlers, there are plenty of sensory play elements to explore!
The World of Bubble is created with found single-use objects, giving them second life.
About the Artist
Myra Loke is a puppeteer, theatre maker, and associate artist of The Finger Players with a passion for theatre for young audiences. Myra co-created You Can Reach The Sky, an immersive theatrical experience for babies which has been touring infant care centres and special needs organisations since 2017.
About the Creative Residency
Inspired by a desire to extend the reach of picture books beyond the book, the Woods in the Books Creative Residency supports creatives to create a body of work that designs experimental literary forms or programmes to engage the community. Over a 6-month period, our resident will explore and push the boundaries of picture book literacy.
When: 17, 18, 24, 25 August
11.00 - 11.45AM (6 months - 2 years old)
2.00 - 2.45PM (3 - 9 years old)
4.00 - 4.45PM (3 - 9 years old)
Who: 6 months - 2 years old, 3 - 9 years old
Where: Woods in the Books, 3 Yong Siak Street
Fees*: $15 for 1 parent-child pair, $10 per additional attendee. Sign up at woodsinthebooks.peatix.com
*Before Peatix handling fees