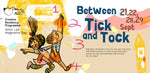 High above the bustle of the city,
are eyes that watch, and hands that know,
it's time to pause the clock…
and for one tiny second between tick and tock, the city stops!
Take your time over the everyday details of life in this sensory story experience of 'Between Tick and Tock' by Louise Grieg and Ashling Lindsay. Led by our Creative Resident Myra Loke, discover how this immersive story comes to life with the help of everyday items and live foley (reproduction of everyday sound effects). Kids aged 4 - 9 will also make and bring home a sound instrument to use with their own stories!
Witness how everyday objects can bring stories to life through our residency programme, demonstrating how stories can be livened up at home to create an environment where kids lead the play experience!
Who:
3 Months - 3 Years Old
4 - 9 Years Old (Includes homemade sound instrument craft time)
When: 21, 22, 28, 29 September
11.00 - 11.30AM (3 Months - 3 Years Old)
2.00 - 2.45PM (4 - 9 Years Old)
4.00 - 4.45PM (4 - 9 Years Old)
Where: Woods in the Books, 3 Yong Siak Street
Fees (Not inclusive of Peatix handling fees):
$15 for 1 Parent-Child Pair
$10 per additional attendee
woodsinthebooks.peatix.com
About the Artist
Myra Loke is a puppeteer, theatre maker, and co-artistic director of The Finger Players with a passion for theatre for young audiences. Myra co-created You Can Reach The Sky, an immersive theatrical experience for babies which has been touring infant care centres and special needs organisations since 2017.
About the Creative Residency
Inspired by a desire to extend the reach of picture books beyond the book, the Woods in the Books Creative Residency supports creatives to create a body of work that designs experimental literary forms or programmes to engage the community. Over a 6-month period, our resident will explore and push the boundaries of picture book literacy.