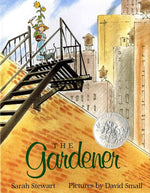 About this book: Lydia Grace Finch brings a suitcase full of seeds to the big grey city, where she goes to stay with her Uncle Jim, a cantankerous baker. There she initiates a gradual transformation, bit by bit brightening the shop and bringing smiles to customers' faces with the flowers she grows. But it is in a secret place that Lydia Grace works on her masterpiece, which she hopes will make even Uncle Jim smile.
The Gardener is a 1997 New York Times Book Review Notable Children's Book of the Year and a 1998 Caldecott Honor Book.
Recommended by our elves because...
This simple book follows Lydia Grace as she makes change happen just by doing what she loves.
The narrative is all about finding opportunities! Seeds find a home in 'cracked teacups and bent cake pans' and a rooftop full of rubbish is transformed into a wonderful garden.
In each of Lydia Grace's letters home, you can feel the love and gratitude she has for the family she has left behind as well as her growing affection for the family she comes to have in the city.
The beauty of the story is only enhanced by its illustrations, as Lydia Grace's flowers multiply on each new spread, palpably demonstrating how she brightens the greyness of the city and the bakery.
For:
 6 years old and up who like green growing things, creating surprises that make others smile, or receiving letters from the past!