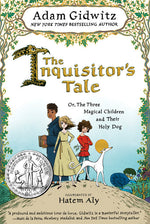 About this book:
1242. On a dark night, travelers from across France cross paths at an inn and begin to tell stories of three children. Their adventures take them on a chase through France: they are taken captive by knights, sit alongside a king, and save the land from a farting dragon. On the run to escape prejudice and persecution and save precious and holy texts from being burned, their quest drives them forward to a final showdown at Mont Saint-Michel, where all will come to question if these children can perform the miracles of saints. Join William, an oblate on a mission from his monastery; Jacob, a Jewish boy who has fled his burning village; and Jeanne, a peasant girl who hides her prophetic visions. They are accompanied by Jeanne's loyal greyhound, Gwenforte . . . recently brought back from the dead. Told in multiple voices, in a style reminiscent of The Canterbury Tales, our narrator collects their stories and the saga of these three unlikely allies begins to come together.
Recommended by our elves because...
It contains a dragon with deadly farts! All the fantastically imaginative episodes in this book, from William's super strength and Jeanne's prophetic visons to Gwenforte's holy resurrection and Jacob's healing hands, are rooted in true historical tales.
This lavishly illustrated book is full of doodles and pictures that deepen the reading experience not only in terms of emotion but in scads of humour as well.
The Inquisitor's Tale is at once a thoroughly-researched adventure fantasy as well as a thoughtful exploration of the importance of books, knowledge, and critical thinking.
While it is set far away depths of history, the book is just as relevant to the present in what it has to say about the past.
For
: Ages 10 and up who love farting dragons, smashing up fiends, and detest the burning of books.