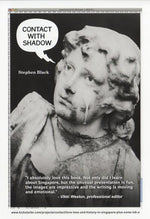 This intimate exhibition consists of text, drawings, photographs and historical imagery related to Contact With Shadow. Written in a contemporary, dynamic style the novel touches.upon a variety of topics, including love, loss, Armenian Street,19th century printing technology, Hollywood and molecular food!
Exhibition: July 19 - 25 / Reception: July 22
Woods in the Books (58 Club Street)
About Stephen Black
Instead of writing about himself, he hopes that you'll take a few minutes to check out the free full-length sample of CWS which can be found at the link above..