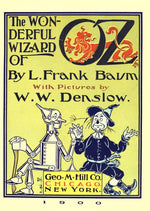 Best known as the writer of Dorothy's and Toto's adventures in the faraway land of Oz, L. Frank Baum was born on May 15, 1856.
W. W. Denslow's illustrations for The Wonderful Wizard of Oz The Wonderful Wizard of Oz was first published in 1900 on May 17, two days after the Baum's birthday. It swiftly became a bestselling children's book, delighting many with the tale of the Emerald City, the Wicked Witch, and beloved characters such as the Cowardly Lion with no courage, the Tin Man with no heart, and the Scarecrow with no brain.
W. W. Denslow, the original artist for the book, whose artwork was praised for perfectly creating the image of Dorothy and the world of Oz, shared the copyright for The Wonderful Wizard of Oz with Baum. In 1902, a play based on the book opened in Chicago. Simply titled The Wizard of Oz and aimed at an adult audience, its costumes were based on Denslow's illustrations. While Baum went on to write 13 more novels detailing further adventures in the land of Oz, Denslow was not involved in any of the other stories of Oz. After the 1902 play, it was reported that the two former friends fell out over royalties.
Baum cited Hans Christian Andersen and the Brothers Grimm as inspiration behind the books, leading him to write American fairy tales excised of the darkness in earlier fairy tales and filled instead with a sense of wonder and whimsy.
Today, The Wonderful Wizard of Oz  is known all around the world and continues to amuse and inspire children everywhere. A truly wonderful legacy to carry all the way from the year 1900!