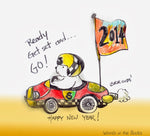 Happy New Year!
Scotti and the team are all set for the new adventure!
Ready, Get set and 2014 here we come!
join us this new year eve while we open till 8pm and see you on the first day of new year.
31 Dec 2013 New year eve : 11am - 8pm
1 Jan 2014 New year day : 11am - 8pm
Thank you all for the love and support!