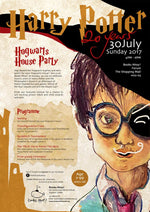 Hop aboard the Hogwarts Express and earn points for your Hogwarts House! Join us at Books Ahoy! on Sunday, 30 July to celebrate twenty years of Harry Potter and the Philosopher's Stone in an afternoon of fun and games. Which of the four Houses will win the House Cup?
Date: Sunday, 30 July 2017
Time: 4 - 6PM
Age: 7 - 99 years old
Venue: Books Ahoy!, Forum The Shopping Mall #02-03
Ticket Price: S$10 per attendee, inclusive of S$5 store credit*.
Click here to sign up!
COSTUME CONTEST
Come dressed as a Harry Potter character! Our favourite costumes will receive exciting prizes! Adult as well as child wizards are most welcome to sign up.
PROGRAMME
Sorting: Get yourself Sorted into your Hogwarts House!
Transfiguration Class: Guess the animals your Housemates have 'Transfigured' into for House points!
Quidditch Tournament: Houses face off across each other in this game of Quidditch (modified for Muggle spaces)!
The TRUE Harry Potter Fan Quiz: Win points by answering Harry Potter trivia questions correctly!
Prize-giving Ceremony: Find out who are the winners of this year's House Cup!

*We ask for $10 per attendee so that we can prepare for the party with an accurate count of young wizards and witches attending! As an appreciation for coming to the party, $5 will be given to attendees as store credit**, while the remainder will go towards other party costs (including prizes!).
**Store credit to be used on event day only. Tickets purchased are non-refundable.