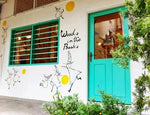 One of the most interesting things about selling illustrated books is observing how closely books with pictures are associated with children. One day, we'll tally up the number of customers who open the door, take one step into the shop, only to suffer from an immediate change of heart and turn abruptly back to walk outside again (often without closing the door all the way! We're not trying to air-condition the outside!).
"Is this a shop for children's books?" a customer once enquired loudly from the doorway into the quiet of an otherwise empty shop. Yes, we assured him, it is. "But I don't have any children!" he exclaimed, defeated by the soft toys and cheery illustrations that litter our shop.
Much of our collection was written with children in mind, of course. But then there are gems like Jonanthan Drori's Around the World in 80 Trees with its wonderfully delicate illustrations and deftly beautiful prose, a treat aimed more at adults than kids. Pop-up book collectors, design students, anyone who enjoys perusing a photo-laden book about the Singapore Shophouse or the hefty tome of Eisner Award-winning The Art of Charlie Chan Hock Chye -- these are the people who have brought home a book to love from our shop. You never know just what you might find; isn't that the joy of a visit to an independent bookshop?