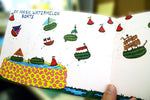 An Awesome Book! by Dallas Clayton
 of Magic watermelon boats and Musical baboons...
"Close your eyes my child and DREAM
that perfect Dream inside your head"
"My name is Dallas Clayton. I wrote a book for my son about the idea of dreaming big and never giving up. I put it online and my whole life changed forever. Because of this I started a Foundation to give away one book for every copy of An Awesome Book I sell. Now I write children's books for a living, travel the world reading to kids, and spend my days having magical adventures."
Dallas Clayton