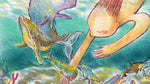 Can you recycle a fish?
Do birds have noses?
Will scotch tape thrown into the ocean make fish stick together, unable to move?
In our last Little EcoHero session, these were some of the questions that spontaneously came from the children who joined in with us to learn about green living through games and a story reading! When we began the Little EcoHero project, one of our aims was to help kids understand the problem of plastic pollution in terms that are relatable to them. Throughout the design of the exhibit, from our choices in game design to the visual elements of our exhibit, we wanted to make sure that our little participants would be able to relate the things that they saw to the things in their daily life. Plastic bags with local brands emblazoned on them, cereal boxes with familiar mascots, quiz questions loaded with facts about waste in the context of Singapore.
What we found was that kids were most impacted by the photos we showed them of animals who had been affected by plastic. Pictures of a seahorse grasping onto a cotton bud, a stork with its head trapped in a plastic bag, and a turtle entangled in a fishing net sparked off the biggest reactions and the most questions. Behind these questions lie some early steps in thinking of the waste around us. If a fish can't be recycled, what can be recycled? If birds have noses but no hands, what happens when a plastic bag gets trapped over their heads? If scotch tape lands in the ocean, what happens to the ocean creatures that find it? What happens to plastic after we're done using it?
We hope that Little EcoHero will give kids the tools to understand the impact that even small decisions -- even just whether or not to accept a plastic bag -- can have on the planet around them. Even as Little EcoHero continues into its second month, we are discovering more and more aspects to the problem of plastic in the ocean.
As our resource pile for Little EcoHero grows, we look forward to discovering where our exploration with the Little EcoHeroes who take this journey with us will lead. To sign up for Little EcoHero: Lost Oceans, please visit our Peatix page. For more about Little EcoHero, please visit the Little EcoHero page.