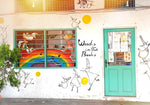 Your favourite teacher is special for a reason and you know it! Let your teacher know how much you appreciate them this Teacher's Day with Woods in the Books' To the World's Best Teacher postcard!
All teachers who bring a stamped postcard to Woods in the Books or Books Ahoy! before 30 September 2018 get 10% off their purchase*. AND if you drop your postcard off with the bookshop elves at Woods in the Books or Books Ahoy! before 28 August, we'll mail your postcard for free**!
Write, draw, or colour a message for your favourite teacher and mail it to your school! If you don't know what to write or draw (sometimes there's just too much to say!), maybe the list of questions below can help you!
What makes you want to see your favourite teacher when you go to school?
When you're having trouble in school, how does your favourite teacher help you?
How does your favourite teacher make learning fun?
What do you think makes your favourite teacher such a good teacher?
Can you think of any other reasons why your teacher is your favourite?
*One-time discount per postcard
**For local addresses only