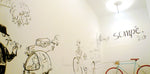 Hello, friends of Woods in the Books!
A special feature on Jean-Jacques Sempé collection in store from 20 Aug - 10 Sep.
Up to 20% discount on all Jean-Jacques Sempé collection published by Phaidon UK. Come get Sempé's collection of classic illustrations and cartoons and not to miss the Nicholas series!
About  Jean-Jacques SempéJean-Jacques Sempé (b.1932) is one of the world's most successful illustrators and cartoonists.
He is the illustrator of the classic children's-book character, Nicholas, and author of a collection of some thirty albums of his cartoons and graphic novels, all published or to be published by Phaidon. His world-renowned illustrations and cartoons are featured on the cover of the New Yorker and in Paris Match. (introduction by Phaidon UK)
Special feature: SUNDAE Messenger Bike by Vanguard
Sundae is an über chic baby blue and chrome sister bike of Sherbert that also comes fully restored and crafted from a 1970s Ishiwata racing frame.
Cool, sophisticated with a hint of nostalgia, Sundae is designed as a quintessential ultra-smooth single-speed commuter that comes fitted with limited-edition deep-section rims, cream tyres and Brooks leather saddle.