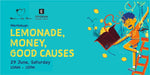 Can a simple glass of lemonade make a difference in our world? Find out how you can turn lemonade into social enterprise in this special learning journey with Swapnil Mishra, author of Freddy the Eager Fundraiser. Learn about budgeting, collaboration, and how to sell lemonade to raise money for a good cause*!
Bring home a copy of Freddy the Eager Fundraiser (U.P. $14.00) along with your ticket in a special bundle deal!
*We can only go ahead with the workshop with a minimum of 10 participants. Participants will be notified by 26 June.
About the Author
A banker by profession and teacher by choice, Swapnil Mishra holds the confluence of enterprise and social goals close to his heart. He is an Adjunct Teaching Mentor at the Singapore Management University mentoring students through classroom projects on social finance and economic development. Swapnil's debut novel, Freddy the Eager Fundraiser, is about a young boy who learns important life lessons when he tries to raise funds for disaster relief.
About Freddy the Eager Fundraiser
Moved by the plight of the earthquake victims in the devastating 2015 earthquake in Nepal, Freddy wants to contribute to his middle school's fundraiser with the Singapore Red Cross. From earning money doing household chores to setting up a lemonade stand, Freddy finds out that raising money is harder than it looks. Inspired by his ukelele-playing younger brother Ray, Freddy calls on his friends, family, and colleagues of his parents to set up a fundraiser/awareness fair within two weeks, battling challenges along the way.
Who: 8 - 12 years old
When: Saturday 29 June, 10.00AM - 12.00PM
Where: Woods in the Books 3 Yong Siak Street Singapore 168642
Participant Fees (before Peatix handling fee):
$25 for 1 participant
$35 for 1 participant and 1 copy of Freddy the Eager Fundraiser
NEW! Special BFF Rate: $50 for 2 participants and 2 books