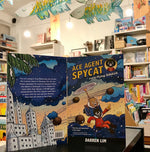 #BuySingLit, Read Our Stories - Ace Agent Spycat and the Flying Sidekick
When penguin king Blackwing encases the tropical island of Boracay in the Philippines in unseasonal snow and ice, ace agent Spycat is on the case! Based on an original short animation shown in 33 countries, Ace Agent Spycat and the Flying Sidekick is an action-packed adventure written by Darren Lim, filled with spy gadgetry, a generous sprinkling of humour, and heroes saving the day from nefarious plots.
Spinning quite a few different plot threads together, from the mysterious kidnapping of Professor Wolff to the introduction of Spycat's new partner, Rockcat, Ace Agent Spycat and the Flying Sidekick is a story that spans the globe with a Southeast Asian twist. While our protagonist is an anthropomorphised cat in the tradition of Mickey Mouse or Geronimo Stilton, 'Spycat' is a pseudonym for Tom Tan Tong Kiat who hails from Singapore and whose favourite exclamation of surprise is, "Fried fishballs!"
Lai Hui Li's illustrations, spread throughout the book, bring the characters and their world to life, and even include an interactive maze spread to sneak past Blackwing's nefarious forces. Not only do the illustrations depict key plot events, but the design of spy-style character biographies and gadgetry exudes a feeling of cartoony fun and zany adventure. Periodic asides from transforming robot Catbot within the story also drop educational tidbits, from vocabulary words to cultural notes, for the reader's benefit.
Over the course of the story, the Spycat characters come together as a loveable team to save the day, paving the way for more books in the series in the same vein. An exciting read for readers aged 8 and up who enjoy spies, gadget-loving superheroes, and action stories!
=====
Want to get your copy of Ace Agent Spycat and the Flying Sidekick from the Woods in the Books e-store? Click here!