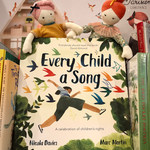 Sundays are for Reading - Every Child a Song by Nicola Davies and Marc Martin
Written to mark the 30th anniversary of the UN Convention on the Rights of the Child (UNCRC), Every Child a Song is an exploration of every child's potential. Through recurring motifs and metaphors of song, flight, and growth, this picture book is a beautiful poetic affirmation of all children, everywhere.
The language of book sings in effective simplicity and lyricism. Its illustrations burst with age-appropriate colour and movement. Yet the true magic of the book comes in how both these elements work together to create a book that lays out the rights of the child, illuminates circumstances that disadvantaged children face, and draws to an affirming and rejuvenating conclusion of hope.
From the outset, words and pictures create meaning in tandem. As the author describes the song of each child's birth, a human parent rocks her child at the moment a parent bird brings food to its nestling. The bird thus becomes a visual metaphor for song.
Using such building blocks and metaphors as recurring elements — birds as songs that play and soar, trees as markers of thriving life, windows as symbolic mirrors or cages — the book creates a sophisticated but forthright interplay of meaning.
In one powerful illustrated spread, the text reads: " Even amongst storm and change and danger, every song must be heard above the noise and chaos of the world." A flock of white seabirds in the foreground fly over a tumultuous expanse of ocean, waves licking and curling along the edges of the page. Amidst the blue watercolour, a boatful of tiny figures bobs — a clear reference to the current migrant crisis that teachers, parents, or caregivers can use as an opening to a conversation.
Every Child a Song does not shy away from dark situations which are conveyed through emotion rather than frightening images. In its stirring and triumphant close, it looks towards a future its visual metaphors come together, creating an open forest where songbirds  and children alike can sing and rest and play.
To contextualise the UNCRC that informs the book, the book includes a simple foreword introducing the UNCRC along with a list of some of the 54 rights that inspired the book.
Every Child a Song is a triumph of the picture book as an artform. At the same time, its purpose as a children's book is never diminished or forgotten. While it is a lovely gift for ages 3 and up, it is a book to grow up with at any age, a book that lingers long after the final page is turned.