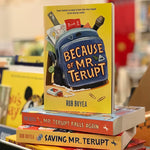 Sundays are for Reading - Because of Mr. Terupt
She looked at Mr. Terupt. I was close enough to hear her say, "There's magic in this room with you here, Mr. Terupt. Magic."

-Because of Mr. Terupt
Mr. Terupt arrives at Snow Hill School at the start of the school year, bringing with him more fun, excitement, and drama than any of the seven narrators of this book would have dreamed that school could hold. Through his unique connection with each student and his methods of making school interesting, readers will come to see how a single teacher can make a difference in the lives of his students.
Because of Mr. Terupt is divided into the months of the American school year, beginning in September. The year's events play out through the eyes of seven classmates, told in first person narration. Each narrator has their own unique voice and secrets, from artistic Danielle to quiet Anna to closed-off Jeffrey. After passing through the school year alongside the class, the reader will feel almost like a member of the class too.
While Mr. Terupt never narrates any part of the story himself, his impact on the class is clear from the first day of school, as he gains playful Peter's respect and soothes new girl Jessica's nerves over being in a new school for the first time. He challenges them to see new perspectives and to think of problems big and small in different ways.
Mr. Terupt's interesting class assignments — such as adding up the value of different letters to discover 'dollar words' or words whose letters add to a dollar — quickly wins the attention of the entire class. It's easy to see why the class likes him when he stands up for their work, demonstrates that he respects each and every student's voice, and his deft handling of the interpersonal dramas of his 10 - 11 year old charges that wins the hearts of the class.
When a sudden plot twist parts Mr. Terupt from his class, the adults around the class begin to see the magic of his classroom approach. Beyond being a fun teacher, Mr. Terupt encourages his class to grow as people, not just in academics. This is most evident in Lexie's journey to become less of a bully and make genuine friends instead of leading popularity contests, but every child in the story changes for the better through Mr. Terupt's teaching and trust.
Because of Mr. Terupt is a story of the bond between a teacher and his students, building a classroom community whose effects will outlast their schooldays. Though the story's tone is light, it capably touches on topics including special needs, divorce, single parenthood, and grief. Originally published in 2010, this book remains relevant this Teachers' Day as a testament to the influence any teacher can have in the lives of students. The first of a trilogy, this book is great for readers aged 9 and up.
=====
Looking to get your copy of Because of Mr. Terupt from the Woods in the Books e-store? You'll find it here!