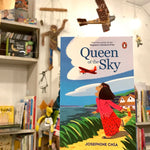 #BuySingLit, Read Our Stories - Queen of the Sky
"Don't you see? When you always play it safe, life is not going to be interesting," she said with a slightly exasperated voice. "When you don't dream, you have already disappeared."
-Queen of the Sky
 On the banks of the Kallang River in the year 1937, a young girl met the pilot Amelia Earhart, and her dreams changed forever. In Josephine Chia's Queen of the Sky, young Amelia and her great grandmother (affectionately known as GGM) are close in spite of the generation gap. But even Amelia is taken aback by GGM's birthday wish in this story about achieving your dreams, no matter how old or how young you are.
GGM has raised eight children, run her own nasi lemak business, and lived a full life, but she has one last dream to fulfil. While practical concerns kept GGM tethered to the ground, she dreamed of flying with the wind in her hair, inspired by her encounter with Amelia Earhart in her childhood. GGM was so inspired by Amelia Earhart that she followed her progress around the world by radio and begged Amelia's mother to name her after the famous aviatrix.
The narrative offers a contrast to GGM's free spirit in the form of her family's concerns, especially Amelia's mother who is solidly against taking risks for no good reason. Yet when GGM announces she wants to go skydiving for her birthday, this Peranakan family must come to grapple between their desire to keep GGM safe against their hopes to see her dream to become the Queen of the Sky fulfilled, even at this stage in her life.
Young Amelia starts to formulate her own dreams of becoming a pilot and charting her own path to get there. While her dream of becoming a pilot is inspired by GGM's stories and her links to the past, the future of this dream can only be plotted out by Amelia herself as she makes plans for life beyond Primary school to make her dream concrete, and thus bridging past to the future.
Parents may wish to vet through the story for readers who may be sensitive to stories that touch on fear of death, but readers aged 9 and up will find this to be a quick but rewarding read that explores themes of freedom, dreams, and family ties.
=====
Hoping to get the Queen of the Sky from Woods in the Books? You'll find them at these links on our e-store! Purchase your copy at this link.