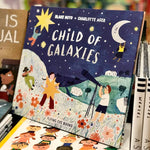 Sundays are for Reading - Child of Galaxies by Blake Nuto and Charlotte Ager
From gases to minerals, the elements of our world were formed in the heart of at least one star over billions of years. Scientifically speaking, the elements that make up the elements of the human body come from the stars. It's this poetic sentiment that is the seed of Child of Galaxies, an uplifting read of wonder and courage.
Told in second person and a lovely choice for rhyming read-aloud story, the poetry of stars, galaxies, and space intertwines throughout the narration. Blake Nuto's writing places children within the universe, a small but indelible part of the incredible tapestry of life. Paired with Charlotte Ager's colourful and textured illustrations, Child of Galaxies sets out to showcase the wonders of the world around us, offering a contrast to doubts and struggles that children might face in life.
Contrast and size in Child of Galaxies reveal emotional truths. In one spread, the line 'Because shadows will fade, But time will remain, And will be there when DARKNESS is PASSING.' is accompanied by the illustration of a child in the midst of a field of sunflowers, a wide expanse of of white, green, and yellow. It offers a visual alternative to the 'shadows' of the narrative.
The children who populate the illustrations can be small enough to sit in the centre of flowers or big enough to dance among the stars. While darker illustrations show how fear, doubt, or worry can engulf the small child figure, the bright red of flower petals stretch out in encouragement to count flowers instead of hours. This absurdity of size underpins the book's sense that children are part of a wider universe in which all things are connected.
A celebration of life that encourages children to work through their fears, Child of Galaxies uses wonder and delight in life to galvanise readers beyond darker feelings. A lovely read for children aged 3 and up, this book is a great gift for milestones and for readers who appreciate the message of Dr. Seuss' Oh, the Places You'll Go!