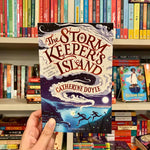 Sundays Are For Reading - The Storm Keeper's Island by Catherine Doyle
On Arranmore Island, the wind is a faithful friend and the past is a place to visit by the light of the Storm Keeper's magic candles. The first in an ongoing fantasy adventure series and rooted in both Celtic mythology as well as themes of belonging, The Storm Keeper's Island follows protagonist Fionn Boyle as he uncovers the mysteries and magic of the island to defeat a darkness that lies in wait.
Family secrets intertwine with the island's magical nature. Fionn's sister Tara leaves her phone and Fionn behind to seek out the fabled Sea Cave without him. The grief over their father's disappearance, in the midst of a storm on Arranmore, before Fionn was born hangs over the family. Fionn himself grapples with an inexplicable sense of homecoming that wars with a desire to be more than his father's replacement. Yet even as tensions in the Boyle clan run high, humour and snappy dialogue convincingly draw each character out.
But those aren't the only secrets on the island. In time out of memory, the five families on the island were charged by the mythical Dagda to keep watch against the return of the sleeping Morrigan, led by the Storm Keeper. A position handed down over generations, the Storm Keeper's power manipulates the weather and stores memories in handmade candles. The inventive magic of Arranmore Island is a family and community affair, especially as the current Storm Keeper is Fionn's Grandad, Malachy.
Like a building storm front, the mysteries of Arranmore Island come together in a climax that is both atmospherically and emotionally resonant, well-foreshadowed and executed with timely pacing.  A fantasy adventure that will appeal to readers aged 9 - 12 who enjoy Susan Cooper's The Dark is Rising series, this book will leave readers excited for the next book in the series.
=====
The Storm Keeper's Island is available at the Woods in the Books E-Store!