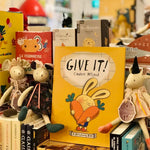 Sundays are for Reading - Give It! A Moneybunny Book by Cindy McLeod
If you've ever had trouble trying to explain why giving is important to young kids, never fear! Cindy McLeod's Moneybunny series is here to help. In Give It! A Moneybunny Book, superhero-wannabe Chummy learns all about the joys of giving.
Like other Moneybunny books, this latest book in the series deals with simple relatable stories to help young readers grasp the principles of financial literacy. Monetary units are based on carrots, and adorable art of the Moneybunny characters go a long way towards keeping kids engaged in the stories and lessons without getting bogged down in detail or terminology.
Give It! is the story of Chummy, a little bunny who wants to save the world in his 10-carrot superhero costume! But when his grandmother asks how Chummy plans to save the world in his costume, Chummy is stumped. Together with his Gran, Chummy thinks up how he can use his 10 carrots to do good and save the world with what he has.
One effective device from the book is the simple illustration of Chummy's different options where he weighs how many carrots he would like to use to plant more flowers for bees.  Seeing the choices laid out on the page gives parents and caregivers a simple model that they can adapt for use at home for kids to decide how to apportion pocket money between spending for themselves and giving to others.
With its simple but relatable story, Give It! helps kids aged 3 and up wrap their heads around giving money to a good cause. This hardcover edition is yet another Moneybunny winner to add to the collection. For more Moneybunny, check out the other books in the series: Earn It!, Save It!, and Spend It!
=====
Get your copy of Give It! A Moneybunny Book from the Woods in the Books e-store!