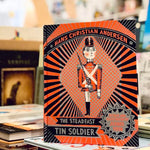 Sundays Are For Reading - The Steadfast Tin Soldier by Hans Christian Andersen and Joohee Yoon
A fresh visual spin on a classic story, Joohee Yoon's picture book adaptation of Hans Christian Andersen's tale transforms The Steadfast Tin Soldier into an illustrated piece of art rife with complexity and emotional nuance.
While the toys and animals who appear in the story live in a world created by humans, the story takes place out of sight of humans. Joohee Yoon's illustrations reflect this, taking great care over the many and varied toys that populate the playroom home of the tin soldier, his star-crossed ballerina love, and the troll that sends the tin soldier falling from the window and journeying to the sea.
With its minimalist palette of red, grey, black, and white, in a story whose main characters rarely act to affect the plot, the illustrations carry a lot of emotional weight. While the tin soldier and the paper ballerina never speak or seem to interact, the dramatic contrasts of colour and shape in every spread that features them indicate a depth of feelings and emotions between them.
These textured, beautiful illustrations transform an already beloved tale into a jewel of a book, deepening the symbolism and emotion in the original. Images of the troll, the rat, and the fish all engulf the much of the pages they appear on, dominating each spread with a sense of menace and ill-intent.
All these heighten the drama of the tin soldier's journey from the playroom to the sea and back again. While the tin soldier remains reserved all through the story, the expressive illustration style captures the tragedy, romance, and emotion of the original story to great effect. A beautiful illustrated addition to any collection of Hans Christian Andersen's fairy tales, this classic story is one to revisit this Christmas. Recommended for ages 6 and up.
=====