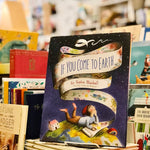 Sundays are for Reading - If You Come to Earth by Sophie Blackall
In a sensitive and lavishly illustrated picture book, young Quinn pens an introduction to the planet Earth for any passing intergalactic visitors who might wish to stop by. A love letter to our little planet and the people who live there, If You Come to Earth is a gentle, heartwarming read that will resonate with readers who enjoy the idea of communicating with alien life.
Framed in the form of a letter, Quinn writes in the hopes of attracting new visitors to Earth. By turns quirky, sage, and practical, Quinn's perspective of the world and the people who live in it offers a point of view from a young person who has only relatively recently been introduced to it. Woven through Quinn's loving words is a clear necessity to care for the planet and for one another.
The beautifully detailed illustrations of this 80-page book are just slightly askew from the epistolary narration. As Quinn gives directions to our solar system, the view of Earth approaches from the bottom of the sphere rather than the full green and blue circle we usually associate with our planet. Quinn writes of cities, villages, and remote homes, and the art of If You Come to Earth zooms in on each location from a map-like view — as if from the perspective of a visiting alien.
As this alien perspective of planet Earth follows the beats of Quinn's letter, the narratives moves from physical facts to metaphysical rumination on aging, kindness, and gentle idiosyncrasies of human existence. Over the course of Quinn's epistle, the illustrations explore the joys of both being young and growing old. In this celebration of life on Earth, the unique perspectives of alien and child meet through the magic of the picture book medium.
An engaging read, this brilliantly executed concept makes If You Come to Earth a keeper for the library shelf. Perfect for any reader who is proud of what makes Planet Earth special, this book is recommended for ages 6 and up.
=====