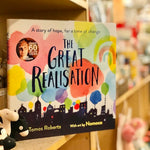 Sundays are for Reading - The Great Realisation by Tomos Roberts and Nomoco
The Great Realisation began as a spoken word poem, performed in response to the COVID-19 pandemic. More than a mere picture book, this adaptation of Tomos Roberts' original poem uses the pandemic as a way to look at where we stood before, and how we can use the time we've been given to change our future.
Told as a bedtime story in a far-flung imagined future, the narrator's dialogue sets the year 2020 as a distant memory. In layered but clear language, the narrative delves into how people prioritise convenience at the expense of connecting with one another or keeping our oceans free of plastic. At a deliberate, rhyming pace, the story crests into the vivid picture of a post-pandemic future, where humanity begins to care more for one another as well as an environmentally sustainable future.
This powerful message is matched by Nocomo's evocative illustrations. Echoing and building the rhythm of the narrative, the art splashes across every spread to shine a light on the overwhelming nature of the issues our planet faces while simultaneously exposing emotional truths. In the flight of a delicate flock of birds or the growth of a stand of colourful trees, the illustrations capture a teetering sense of hope for the future.
The strengths of this book will resonate with readers young and old. For any reader who has lived through the COVD-19 pandemic, this reminder of the 2020 pandemic year serves as a powerful reminder of the change we have the potential to achieve. Recommended for ages 4 and up.
=====
Get your copy of The Great Realisation at the Woods in the Books e-store!