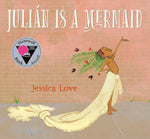 Julián LOVES mermaids.
There are mermaids on the train one day when Julián and his abuela are on their way home. Fascinated and inspired, Julián goes the rest of the way home imagining himself as a mermaid with a colourful tail and long flowing locks of hair. When his abuela leaves him on his own, Julián turns his imagination into reality as best he can -- he borrows lipstick, he plucks leaves and flowers for hair, and he takes down the curtains to fashion a tail. When his abuela discovers him, she asks him to wait before she gives him a necklace to complete his outfit. Then she takes him out yet again where they find a parade of mermaids, just like Julián.
The magic of this picture book relies entirely on the duality of imagination and play. Julián's confidence in his mermaid costume is given life because of the richly detailed imagination of Julián as a mermaid. Before abuela gives him her necklace, Julián's fears of rejection are entirely clear from a wordless sequence where he looks into the mirror and down at himself in clear contrast to his confident air only a few pages before. That his abuela accepts what she sees, though it might not physically match the mermaid Julián of his imagination, and goes even further to show him that he's not the only mermaid in the world affirms Julián's selfhood in a way that feels entirely natural.
One of the latest in a string of welcome books that question gender essentialism, 'Julián is a Mermaid' ties its message to its protagonist's expression of self and imagination. With its beautiful illustrations and the subtlety of its message on gender, self, and acceptance, it's a wonderful addition to any home library. It hasn't gone unnoticed in the world of awards either; Jessica Love's debut picture book is already a winner of the Stonewall Book Awards and it's been nominated for a whole slew of children's book awards, including the CILIP Kate Greenaway Award this year (winners will be announced in June!). It's currently available at Woods in the Books while stocks last!