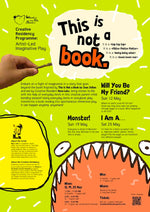 This is not a book.
It is a *tap tap tap*
It is a *flitter flutter flutter*
It is a *boing boing whee*
It is a *boom boom roar*
Embark on a flight of imagination in a story that goes beyond the book! Inspired by This Is Not a Book by Jean Jullien and led by Creative Resident Myra Loke, bring stories to life with the help of everyday items in this creative parent-child bonding session!
Using everyday items in storybook play transforms a book reading into spontaneous immersive play. It can happen anytime, anywhere!
Will You Be My Friend? (Sun 12 May)
Where on earth could Ah Girl be? Some say they have seen her jumping through pages of a book. What happened to Ah Girl?
Monster! (Sun 19 May)
Everyone is afraid of Monster! But this time, Monster is the one who is afraid…
I Am A… (Sat 25 May)
It's time for a dress up party! I am a…tightrope walker, pianist, tennis player! Flip the pages as we transform into different people!
Who:
5 months - 3 years old
4 - 9 years old
When: 12, 19, 25 May
11.00 - 11.30AM (5 months - 3 years old)
2.00 - 2.45PM (4 - 9 years old)
4.00 - 4.45PM (4 - 9 years old, conducted in Chinese)
Where: Woods in the Books, 3 Yong Siak Street
Ticket: $15 for 1 parent-child pair, $10 per additional attendee, sign up at woodsinthebooks.peatix.com
About the Artist
Myra Loke is a puppeteer, theatre maker, and associate artist of The Finger Players with a passion for theatre for young audiences. Myra co-created You Can Reach The Sky, an immersive theatrical experience for babies which has been touring infant care centres and special needs organisations since 2017. She hopes her programme can serve as an example of how to engage with books and to imagine beyond the page. She wishes to spark imagination and creativity in both children and adults.
About the Creative Residency
Inspired by a desire to extend the reach of picture books beyond the book, the Woods in the Books Creative Residency supports creatives to create a body of work that designs experimental literary forms or programmes to engage the community. Over a 6-month period, our resident will explore and push the boundaries of picture book literacy.