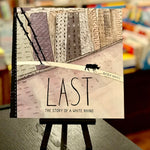 Sundays are for Reading - 
Last by Nicola Davies
Inspired by the story of Sudan, the last Northern White Rhinoceros, Nicola Davies' story of a last lonely rhino in captivity is a simple introduction to the world of animal conservation that develops the reader's empathy.
In spare and minimalist language,
Last
is written from the point of view of a lonely rhino, reliving its old memories and describing its present-day circumstances. Stark contrasts characterise the illustrations, the monotonous greys of the animals in their cages against the bright and fresh hues in the rhino's memories of being young and living free.
With all these elements together,
Last
invites readers to step into the mind of the last rhino through its illustration and language. In doing so, it begins to build reader empathy for the rhino and other captive animals, creating opportunities for thoughtful conversations on animal conservation and habitat preservation.
A sensitive and hopeful take on an important topic of our time, Last not only encourages compassion for wildlife but also develops a rudimentary understanding of animal conservation. Suitable for readers aged 4 and up.
=====
Get your copy at the Woods in the Books 
E-Store!