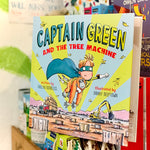 Sundays are for Reading -

Captain Green and the Tree Machine

by Evelyn Bookless and Danny Deeptown
You don't need to be a superhero to save the Earth! Captain Green returns in a new eco-adventure about saving the world from deforestation, one tree at a time.

Rainforest animals are calling for help, from the hornbill who has nowhere to nest and the elephant who can't find enough fruits to eat to the orang-utans whose forest homes are being chopped down. Illustrated in a cartoonish style that hews to the bright colours and action of the superhero genre, Captain Green still presents the plight of the rainforest with plenty of details that are accurate to life.

In answer, Captain Green whips out his new tree-planting machine to replace the lost trees. It seems to work at first, but with the sheer amount of trees to replace, the machine soon breaks. It seems as though hope is lost, until Captain Green remembers that superheroing doesn't have to be a solo endeavour. Everyone, anyone, can plant a tree and save the world if we all pitch in together.

Boasting a collaborative message that will galvanise readers into action, Captain Green and the Tree Machine comes with a fact sheet and suggestions for an eco-conscious lifestyle. A feel good superhero escapade about saving the world by replenishing its forests, this zippy read is excellent for readers aged 4 and up.

=====

Get your copy of Captain Green and the Tree Machine at the Woods in the Books E-Store!
Also in the series: Captain Green and the Plastic Scene