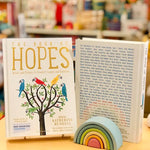 Sundays are For Reading - The Book of Hopes edited by Katherine Rundell
The Book of Hopes is a collection of stories, drawings, facts, and accounts, put together in the early days of the COVID-19 outbreak when the outlook was bleak and hope seemed to be a tall order. As editor Katherine Rundell notes, it was in books that she found the strength to become just that bit stronger. So she went to some of the very best in children's literature in search of a little hope to hand on to the children who were going through a world in crisis.
Including contributions from too many creators to fully list, including Axel Scheffler, Jackie Morris, Patrick Ness, Polly Dunbar, and more, The Book of Hopes comes to a whopping count of nearly 400 pages. Despite its size, this book is designed to be easily accessible for readers, with each story no longer than 500 words. It's simple to dive in a pick a single story that catches a reader's fancy, rather than try to finish the book in one enormous gulp.
While the illustrations and stories are centred around the theme of hope, this star studded collection still spans a wide range of topics. Funny and heartfelt, the anthology is separated into plenty of subjects that make choosing what to read an easier proposition. From animals to birthdays, magic to stars, the sheer amount of stories to delight young readers is breathtaking. The wealth of reading doesn't end with the close of the book either — a further reading section, broken down by age — continues the reading journey.
Filled with beautiful pictures and stories alike, this hardcover collection is a lovely gift for bedtime read aloud sharing or simply a book for a reader to grow old with. Designed as it is, to be read as in bits and pieces, readers are welcome to dip back in whenever they need a bite of fortifying hope — the guiding principle that will extend the longevity of this book beyond the COVID-19 crisis. Recommended for ages 5 and up.

=====