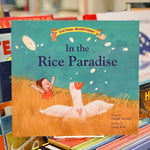 Sundays are For Reading - Cultural Adventurers: In the Rice Paradise by Dingli Stevens and Liang Kun
Adventure, culture, and all you wanted to know about growing and harvesting rice! Join Elena as she visits the magical rice paradise and finds out about the importance of rice in Chinese culture, from the creative team behind Happy Chinese New Year, Elena!
Elena travels to an enchanted museum of rice in a story that intertwines facts alongside the illustrated spreads that illuminate the cultural significance of rice and the rice-growing process. From planting to harvest, Elena learns to grow rice as well as the details of the many delicious dishes that are made out of rice.
With an extra spread of vocabulary terms, In the Rice Paradise seeks to extend the conversation about rice in many ways. Elena's rice paddy adventures are accompanied by lines from a classic Tang poem about working hard in the field, and serves as a jumping off point to discuss Chinese poetry. Furthermore, her discoveries about the rice-planting process inspires her to eat all the rice in her bowl out of appreciation for the hard work it takes to grow every grain of rice, opening the door to conversations about food waste.
Thorough and informative, In the Rice Paradise makes a lovely read for ages 3 and up and will be especially attractive to readers who enjoy learning where food comes from. It also instils an appreciation for Chinese culture, just in time for the Lunar New Year!

=====
Get your copy at the Woods in the Books E-Store!
Special Offer From now to 28 Feb 2021, get In the Rice Paradise with Happy Chinese New Year, Elena! at the special price of $28 (U.P. $34.80)!