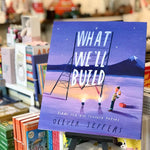 Sundays are For Reading - What We'll Build by Oliver Jeffers
Oliver Jeffers returns with a brand-new children's book. With its aspirational encouragement to map the foundations a better world, What We'll Build hits the offbeat humour and steadfast emotional rhythms that fans have come to expect in a timeless rhyming narrative of a father and daughter building and creating together.
What We'll Build opens on a simple illustrated spread of two pairs of hands, one pair per page that belong to the father and daughter who weave their way throughout the warmly colourful illustrations. Both hands are different — one pair is small and childlike. The other is larger, bearing a ring and a wristwatch as markers of age and time. Yet despite their differences, these hands together work and take up the tools to build concrete things of our world: roads and tunnels, doors and towers.
But at the same time, these portals and passages are ways to spark imagination and to build collaborative adventures. Roads lead to the moon, tunnels lead to 'anywhere'. The door that grows where there was none leads, in time, to 'home'. Through these acts of building, father and daughter create spaces for the imagination to take root and change how they view the future.
The driving force of the story culminates in the narrator's plan to build a storehouse for memories, a place to cherish the things of today when they turn into the things of the past, and to be remembered in the future. As the book closes, it returns to the image of the same pair of hands, but this time placed one pair atop the other to link parent and child together in purpose.
A lovely ode to the importance of parent-child bonding, this book is both a wonderful story time read as well a thoughtful gift for baby showers or birthdays. Readers aged 3 and up will appreciate this timeless story for its beautiful imagining of the what caregivers and children can accomplish together.
=====
Want to get your copy of What We'll Build? Click here to get it from the Woods in the Books e-store!