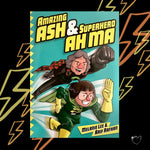 #BuySingLit, Read Our Stories - Amazing Ash & Superhero Ah Ma by Melanie Lee and Arif Rafhan
When Ash discovers her grandmother missing in the middle of a late night study session, little does she expect to discover a long-hidden family secret: her beloved Ah Ma has superpowers! Tempering zany fun with an exploration of social issues relevant to contemporary Singapore, Amazing Ash & Superhero Ah Ma digs into the core of what glues a family and a neighbourhood together.
For eleven years, Ashley Tan knows nothing of Ahma's superstrength, superhuman flight, or her ability to stretch her limbs like a piece of rubber, beyond the limits of a normal human. Raised by Ah Ma and her single mum Grace, Ash struggles with some typical upper primary worries — exams, bullying, and fallings out with friends. With so much on her plate, discovering Ah Ma's powers and the onset of her own soon after seems like a way to escape her troubles and do good at the same time. What could go wrong?
The humour of Amazing Ash & Superhero Ah Ma lands well, thanks to the interplay of Melanie Lee's writing with the pacing of Arif Rafhan's panels. But it's not just wacky fun, as Ash and Ah Ma's story touches on dementia, bullying, single parenting, and the financial difficulties that disadvantaged kids can face. Outlandish physics and the creeping difficulties of Ash's home life balance each other out to create a multifaceted superhero romp set unmistakably in Singapore.
Ash's drive to do good leads her, her friends and her family (superpowered or not) to take steps to better their neighbourhood, through ways that don't need to include violence and might. For budding artists, Amazing Ash & Superhero Ah Ma also includes a guide to draw Ash and Ah Ma! With its superpowered focus on bettering our communities, this local take on the nearly teenaged superhero is a great read for readers aged 9 and up.
=====
Click here to purchase your copy at the Woods in the Books e-store!