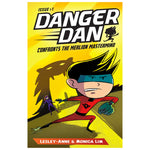 Hold it! The fate of the Merlion is at stake! In this superhero-inspired adventure from Lesley-Anne and Monica Tan, authors of the first four books in the Secrets of Singapore series, time travellers Danny 'Danger Dan' and Melody 'Gadget Girl' blast to Singapore of 1964 to halt a dangerous time warp that could change the course of history as we know it.
Danger Dan Confronts the Merlion Mastermind is packed with action, science fiction gadgets like the tiny flying Fly Cam and the Forever Kool aircon jacket, and plenty of situational slapstick humour. But it is also filled with meticulously researched historical fact, sending its two time travelling protagonists into a Singapore that feels true to its past, anchored through Danny's perspective as a place that kids today can see and experience.
James Tan's illustrations lend some well-placed comic timing to the story, especially in its detail of character interactions such as Melody's exasperation with Danny's antics. They also give readers an idea of the historical locations, such as what a visit to the Van Cleef Aquarium might have looked like in 1964. Art of the Orchid de Lionhead, a key plot point in the narrative, gives readers a visual of how silly this alternate history version of the Merlion looks.
Danger Dan Confronts the Merlion Mastermind makes for an adventure romp through time in a fun-filled mix of fact and fiction. A funny and exhilarating read for kids who love superheroes, aged 7 and up.
=====
Interested in ordering Danger Dan Confronts the Merlion Mastermind from Woods in the Books? Purchase your copy from our website!