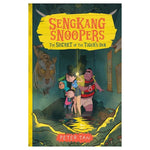 The Sengkang Snoopers are back once again for a second adventure! On this school holiday outing to Sentosa, the four intrepid Snoopers and their faithful parrot are on the trail of hidden treasure from the Japanese Occupation in a story filled with shady characters and secret tunnels.
Where the first Sengkang Snoopers outing brought the group together — Zizi and her parrot Kuning, Basulingam (known as Bus), and siblings Su Lin and Su Yang — Peter Tan's The Secret of the Tiger's Den builds on that foundation. From spooky lights in the darkness to midnight explorations of pirate tunnels beneath Fort Siloso, fans of the first book will be pleased to know that the Snoopers' adventures have only gotten more exciting.
The Sengkang Snoopers books take seriously that holidays are times where anything could happen, a span full of potential for wonder and adventure where kids discover life beyond the regimented schedule of school. Interwoven with elements of suspense and mystery are the Snoopers' lighthearted interactions with people from other walks of life, from knowledgeable history buff and Sentosa angler Encik Ibrahim to Japanese tourists with a strangely intent interest in Singapore's past.
Even in black and white, Billy Yong's illustrations illuminate as they wend through the pages of the book. Reminiscent of animation styles, the art does a great deal of heavy lifting to establish each character through distinct expression, shape, and body language. In one illustrated scene, for example, each Snooper's choice of ice cream and even how each character holds their treat speaks volumes about their individual personality traits. The illustrations underscore the strength of the group's friendships, creating a credible cast of characters to identify with.
A great book to kick off weekend or holiday free time, The Secret of the Tiger's Den and its prequel The Mystery of the Hermit's Hut will appeal to readers aged 8 and up who enjoy The Adventures of Tintin, Asterix, or Enid Blyton's Famous Five stories.
=====
Hoping to get the Sengkang Snoopers books from Woods in the Books? You'll find them at these links on our e-store!
Sengkang Snoopers: The Secret of the Tigers Den (Book 2)
Sengkang Snoopers: The Mystery of the Hermit's Hut (Book 1)