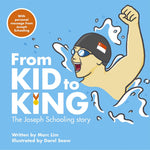 We're starting a new series of posts for the duration of the Circuit Breaker measures to shine a spotlight on SingLit books that we find to be uniquely encouraging. If you already own the book, why not dig out your copy to read again? If you don't already have it, we'll drop a link to our online catalogue below. Happy reading!
=====
Every year as part of the #BuySingLit Campaign, Woods in the Books runs Hello SingLit!, a pop up book fair celebrating local literature. This year, we were invited to work together with Arts in Your Neighbourhood, bringing local authors and illustrators to Bedok Town Square from 12 - 16 March.
Aside from programmes and events, Hello SingLit! offers an array of carefully selected SingLit books. Each year, our hope as we pick the books is that one of our new patrons will bring home a book that truly speaks to them, and that might lead to a new lifelong reader.
But of course it's not exactly easy for us to know if this hope has borne fruit! We can't keep track of every single book we sell as it leaves our care, or track how many lives a story has touched. We sow these seeds into the unknown, and we hope that they find fertile ground where they can flourish.
Which is why we weren't expecting much of the message that popped up in our Facebook inbox about a week after we returned from Hello SingLit! in Bedok.
It began with an innocuous query asking after our online shop, which wasn't available at the time. But when this customer said she was looking for 16 copies of From Kid to King: the Joseph Schooling Story, the picture book that charts Joseph Schooling's journey to become Singapore's first gold medallist, it pricked our curiosity. So we asked her a little more about what drew her to this book in particular.
She wrote back, "I bought this book from you at Bedok Central last weekend [at Hello SingLit!], and I thought of buying it for a few friends."
As the conversation unfolded, we learned that these 16 books about Joseph Schooling's perseverance were meant as gifts to cheer up kids who were on Stay Home Notice and couldn't leave the house until the end of March. Today, most of us have experience with the necessity of staying home, but at the time it was still relatively new and unsettling for everyone. How much more so for the children?
It's rare for us to get feedback on a book's journey, so you can imagine that it is rarer yet for us to see how the direct impact of a book can bear results. The #BuySingLit movement is all about bringing our homegrown stories to new local audiences because these stories give us new perspectives about the world that we live in and the lives that we live right now. This is a testament to the power of that mission.
Stories are all about connection. In the most direct manner, creators connect with their readers. We, as a bookshop, connect with our customers through the books we populate our shelves with, the excellent stories that we believe add something special to our lives. But what we love most is watching and learning about how books can transcend our bookshop to become connections between people. A gift, in the right hands, says something to the person who receives it. A story of Joseph Schooling's Olympic gold medal win becomes a form of encouragement, a connection in a world where social distancing is a temporary necessity and we can't meet face to face.
As we weather our current crisis, the thought we as a society put into making these connections become more important than ever. This story is just one instance of what makes bookselling so fulfilling, unexpected, and heartwarming in the very best of ways. It is a reflection of the power of books and stories to shine a little light in the darkness.
=====
To purchase From Kid to King: The Joseph Schooling Story from Woods in the Books, please visit this page.