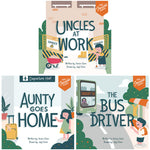 This post is part of our series for the duration of the Circuit Breaker measures to shine a spotlight on SingLit books that we find to be uniquely encouraging. If you already own the book, perhaps you might want to dig out your copy to read again. If you don't already have it, we'll drop a link to our online catalogue below. Happy reading!
=====
The Invisible People series, by author Ames Chen and illustrator Jayl Chen, came to our attention this year. Each of the books in this series — currently comprising of Uncles at Work, Aunty Goes Home, and The Bus Driver — shines a spotlight on the lives of the 'invisible people' of Singapore. From foreign construction workers to domestic helpers, these books open a window to humanise these 'invisible' members of our society from a child's perspective.
Jayl Chen's imperfect lines and cartoony art give the illustrations a soft appeal for both children and parents. A modern colour palette and simple shapes makes the illustrations of familiar foods, locations, and scenes recognisable at a glance. In all three books, the narrative is filtered through a child's perspective and the simplicity of the art, mimicking the rough colouring of colour pencils or crayons, only lends to that illusion. With these two elements working in tandem, kids will find it easy to empathise with the unnamed main characters in each of the three books.
Uncles at Work is particularly apt at the moment. Following a child whose father brings coffee and snacks to construction workers at their new housing estate, the story explores a small sliver of the lives that foreign migrant workers lead at work. As the story unfolds, readers will feel encouraged to express appreciation and gratitude for the 'Invisible People' of the story, and the other books in the series function along similar lines.
Even under normal circumstances, we'd find these books to be meaningful. This series explicitly sets out to help children build empathy not only for people who look 'like us' but people around us who would otherwise be 'invisible'. Singapore together, as Covid-19 has shown, means not only Singaporeans alone but all the people who help to build our home as well. Through these books, we hope our readers will similarly see and appreciate these unseen people — who are fathers, mothers, siblings to someone dear — in our midst.
---
To purchase The Invisible People books from Woods in the Books, you can visit these links: Uncles at Work, Aunty Goes Home, The Bus Driver.