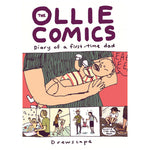 3 weeks.
Every morning, I wake up and I'm amazed to find this new tiny human in my house. I think to myself, where did she come from? A year ago, she didn't exist in my family at all. But here she is now.

-The Ollie Comics, Drewscape
Life doesn't stop because of a Circuit Breaker. School holidays continue, festivals roll in, and babies are born every day. A humorous and gentle peek into the lives of new parents, The Ollie Comics charts memories, new parent woes and worries, and how to overcome them in daily comic form.
Written and illustrated by comic artist Andrew Tan aka Drewscape, author of Monsters, Miracles & Mayonnaise and illustrator of the Sherlock Sam series, The Ollie Comics is something of a departure from his usual work. Drewscape's output tends to skew more toward the speculative realm of science fiction and comic book humour. That sense of pacing lends itself well to the daily comics, with punchlines perfectly landing at the end of each single comic page.
The art of The Ollie Comics is charmingly sketchy, a collection of sequential art, single-panel cartoons, hand-lettered speech bubbles alongside typed captions. This mix only adds to to the sense that this isn't a work of perfect polish but instead gives it a sense of lived experience that pairs perfectly with its subject. Its choice of colours tie the comics together, adding warmth to every page.
The early pages of the book derive humour from the situational humour of new parents flung into challenges they might not have thought of before — feeling jealous that someone else is better at getting the baby to settle down, for example. But it's not long Ollie's own personality begins to drive the humour, setting up an arc of progression that only makes it more compelling to find out what happens next.
Slice of life is a difficult genre to successfully execute because the stakes required for dramatic tension can be hard to pull off. But what's mundane about being a parent? Absolutely nothing at all. Where The Ollie Comics excels is in exploring the ups and downs of integrating a new member into the family, chronicling parental hardships with a light touch.
Far from a book for new or expectant families alone, there is a universality to each page that will touch adults and even families with children long past these early days — for example, kindergarteners will be drawn to ask about their own baby days, beyond the family-friendly laughs
An uplifting book for readers of all kinds.
For readers who enjoy a look at how art is made behind the scenes, there's a small section detailing the process of how the book was made, along with some of the creative choices that were added in before publication. Make sure to check it out!
---
This post is part of our series for the duration of the Circuit Breaker measures to shine a spotlight on SingLit books that we find to be uniquely encouraging. If you already own the book, perhaps you might want to dig out your copy to read again. If you don't already have it, visit this page to buy The Ollie Comics from Woods in the Books. Happy reading!