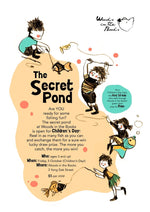 It's a day to celebrate YOU! Visit us at Woods in the Books and Books Ahoy! on Children's Day for fishing fun and phenomenal prizes!
BIG QUESTIONS FOR LITTLE PEOPLE
Ever imagined what kind of sea monster you want to be? Answer some Big Questions for Little People and stand a chance to win book vouchers!
WHO: Ages 4 - 12!
WHERE: Woods in the Books and Books Ahoy!
WHEN: 29 Sept - 7 Oct
FREE
THE SECRET POND
Make your way to Woods in the Books to find the Children's Day-only Secret Pond! Reel in as many fish as you can in 15 minutes and exchange them for a sure-win lucky draw prize. The more you catch, the more you win! As a Children's Day treat, the first 50 children who walk through our little green door play for free!
BONUS: Tongue Twister Challenge! Say 'First fifty kids fish for free' as fast as you can! Win a free ice pop if you can repeat it 3 times without tripping over your tongue!
WHO: Ages 3 and up!
WHERE: Woods in the Books
WHEN: 10.30AM - 1.30PM, Fri 5 Oct
$5 per child