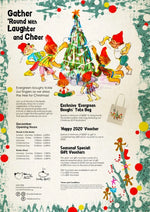 Evergreen boughs tickle our fingers as we dress the tree for Christmas!
Join us at Woods in the Books and Books Ahoy! for a warm celebration of the season. With our seasonal goodies and a trove of deliciously enticing books, you just might find the perfect gift for that special someone you love.
December Opening Hours
Woods in the Books
Sunday - Monday 10.00AM - 6.00PM
Tuesday - Friday 10.00AM - 7.00PM
Saturday 9.00AM - 8.00PM
Christmas Eve 9.00AM - 6.00PM
Christmas Day 10.00AM - 6.00PM
Books Ahoy!
Monday - Sunday 10.00AM - 7.00PM
Christmas Eve 10.00AM - 7.00PM
Christmas Day  10.00AM - 6.00PM
---
Seasonal Special: Gift Vouchers
This year, our gift vouchers come at a special seasonal price. Each set of gift vouchers valued at $100 can be purchased at $90 from now to the end of December! 

Gift Vouchers are available in sets of:
- 5 x $20 Gift Vouchers
- 2 x $50 Gift Vouchers
---
Exclusive 'Evergreen Boughs' Tote Bag 
Spend a minimum of $300* to bring home this limited edition tote bag featuring our Christmas 2019 illustration!
'Happy 2020' Voucher
Spend a minimum of $200* to get a complimentary $20 return voucher to use in 2020!
*Terms and Conditions
Redemption must be made on the day of purchase and is limited to one redemption per shopper per day per respective tier. Gifts/vouchers are available while stocks last. Does not apply to the purchase of gift vouchers.