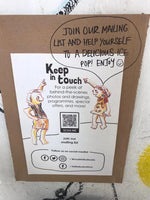 Has anyone else been melting this week? After the lovely cool rain earlier this month, we certainly weren't expecting this week to be so desperately hot.
With Christmas books and other seasonal items arriving at the shop as gifting days draw ever closer, the barrage of snowmen and ice, cosy coats and woolly scarves feels slightly out of place in the sweltering heat as we head into December.
Because it's been so warm this week, don't forget to grab a free ice pop when you drop by to visit us this weekend. Produced locally and made with real fruits, they're a perfectly delicious way to cool down on a sunny afternoon. Just give us a follow on Instagram, Facebook, or join our mailing list -- and beat the heat!