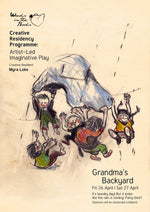 Embark on a flight of imagination together in a story that goes beyond the book! Learn to turn a storybook reading into an immersive adventure in this parent-child session designed to spark the imagination and provide a creative space for family bonding. Led by Woods in the Books Creative Resident Myra Loke, this programme encourages and assists parent-child pairs in coming up with ideas for all kinds of imaginative play for education and leisure activities.
This month's adventure is inspired by the book The Bathing Costume by Charlotte Moundlic. No knowledge of the book is necessary to take part!
Bumpy Bum (Fri 19 April | Sat 20 April)
A long car ride to Grandma's house… I spy with my little eye…
Grandma's Backyard (Fri 26 April | Sat 27 April)
It's laundry day! But it looks like the rain is coming. Party time? (Sessions will be conducted outdoors)
Bloop! (Fri 3 May | Sat 4 May)
Put on your goggles and dive into the deep underwater world!
Who:
5 months - 3 years old (Fridays)
4 - 9 years old (Saturdays)
When:
19, 20, 26, 27 April
3 & 4 May
Fridays and Saturdays
11.00AM - 11.30AM
4.00PM - 4.30PM
Saturday afternoon sessions will be conducted in Mandarin!
Where: Woods in the Books, 3 Yong Siak Street
Ticket: $25 for 1 parent-child pair, woodsinthebooks.peatix.com
About the Artist
Myra Loke is a puppeteer, theatre maker, and associate artist of The Finger Players with a passion for theatre for young audiences. Myra co-created You Can Reach The Sky, an immersive theatrical experience for babies which has been touring infant care centres and special needs organisations since 2017.
About the Creative Residency
Inspired by a desire to extend the reach of picture books beyond the book, the Woods in the Books Creative Residency supports creatives to create a body of work that designs experimental literary forms or programmes to engage the community. Over a 6-month period, our resident will explore and push the boundaries of picture book literacy.