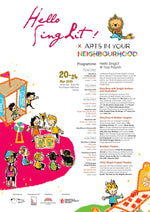 Celebrate SingLit at Hello SingLit!, a book fair by Woods in the Books! There's a whole slew of SingLit books and events waiting just for you.
PLUS win prizes and vouchers when you answer questions in the Hello Singlit! Quiz.
StoryTime with SingLit Authors and Illustrators!
Meet our homegrown authors and illustrators at Hello SingLit! Join author Ben Lai of the I Can and We Can books for a story reading and crafts! Learn about how to keep your eyesight healthy with Dr Mo Dirani, Hwee Goh, and David Liew of the Plano Adventures series. Discover the journey of a strange bird in Little Godwit Finds His Wings with Emily Lim and John Lim.
StoryTime in Mother Tongue!
Discover the fun of SingLit in Mother Tongue languages. Learn about The Amazing Sarong with author Quek Hong Shin in a story reading and games session! Discover the bilingual adventures of the Little Dim Sum Warriors with author Colin Goh in this Chinese language session. In a Malay story reading, find out why Alif Is Not Coming Down and discover the exploits of The Great Dragon Warrior in a Tamil language performance!
Readers Theatre
Join the students of Pasir Ris Secondary School as they bring you brilliantly funny dramatic readings of two SingLit stories: There's Soup on My Fly! and Dou Dou, The Little Imperial Chef.
LITTLE SingLit Puppet Theatre
Discover the tale of fearless Savitri, who must dream up an impossible task to outwit a demon and save her brother Mitra in a puppet show based on Savitri: The Task for the Mighty Demon!
Programme
Thursday, 21 March
StoryTime in Chinese with Quek Hong Shin | 10.30AM - 11.15AM
Friday, 22 March
StoryTime with Ben Lai | 10.30AM - 11.15AM
Saturday, 23 March
Readers Theatre | 10.30AM - 11.00AM
StoryTime with Hwee Goh, David Liew, Dr Mo Dirani |11.00AM - 11.45AM
StoryTime with Emily Lim, John Lim | 11.45AM - 12.30PM
StoryTime in Chinese with Colin Goh | 1.30PM - 2.15PM
Sunday, 24 March
StoryTime in Malay: Alif is Not Coming Down | 3.00PM - 3.30PM
StoryTime in Tamil: The Great Dragon Warrior | 3.30PM - 4.00PM
LITTLE SingLit Puppet Theatre: Savitri: The Task for the Mighty Demon | 4.00PM - 4.30PM